Dr. Ramesh C Gupta
Gastroenterologist in Fair Lawn, NJ
North Jersey GI Associates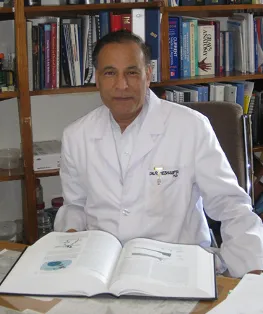 About Us
Dr. Ramesh C Gupta is M.D. F.A.C.P., F.A.C.G. (Fellow of the American College of Physicians & American College of Gastroenterology )
He is Board Certified in Internal Medicine & Gastroenterology and has been practicing Gastroenterology and Internal Medicine for over 30 years. His expertise and great clinical judgment go far beyond all aspects of diagnostic and therapeutic endoscopy and colonoscopy.
Dr. Gupta currently holds membership in the following medical societies:
1. American College of Physicians
2. American College of Gastroenterology
3. American Gastroenterological Association
4. American Society of Gastrointestinal Endoscopy
5. AAPI (American Association of Physicians of Indian Origin)
Patient satisfaction has always been the goal of our practice. Dr. Gupta has extensive experience in interacting with people (patients) from all parts of the world. He is quite experienced in understanding the feelings of people from all walks of life?. He knows about the GI problems that affect people from various ethnic groups?, as well as how to best manage them within the patient's cultural and religious lifestyles.
Dr. Gupta also speaks Hindi and some Spanish. Spanish interpreters are always available in the office.
Office Staff
Affiliations:
Hospitals: Dr. Gupta has been a part of the St. Joseph's Regional Medical Center family for over 30 years. He is also affiliated with Valley hospital in Ridgewood, NJ and Englewood Hospital.
Surgical Center affiliations are:
St . Joseph Hospital
703 Main Street Paterson, NJ 07503 (973) 569-6472
Surgicare of Oradell
555 Kinderkamack Rd Oradell, NJ 07649 (201) 265-8173
Procedures Performed by Dr. Gupta:
A. In-House Tests/Procedures:
1. Hemorrhoid band ligation. Dr. Gupta has special expertise in this field with a record of excellent results.
2. Lactulose Tolerance Test: a check for bacterial overgrowth
3. Fructose Tolerance Test: a check for intolerance to fruits
4. Lactose Tolerance Test: used to determine lactose intolerance
B.Out of Office Procedures:

Upper GI Endoscopy: Including Biopsy, Polypectomy, Control of Bleeding, Dilation of Strictures, Band Ligation of Esophageal Varices, and Placement of Stents.
Colonoscopy : Including Colon Cancer Screening and other Diagnostic and Therapeutic, Including Biopsy, Polypectomy, Control of Bleeding, Dilation of Strictures & Placement of Stents
-These procedures are performed by Dr. Gupta in state of the art ambulatory surgical facilities:
Surgicare of Oradell, NJ
St Joseph's Hospital in Paterson, NJ (under special circumstances based upon the need of the patient)
Insurance acceptance/participation

We participate with and accept essentially all insurances, including Medicare and Medicaid HMOs, such as Horizon NJ Health, Aetna Better Health, and Wellcare along with most commercial insurances, such as Horizon BCBS, Aetna, Cigna, AmeriHealth, UnitedHealthcare, Oxford, and locals.
Informacion de nuestro equipo
Dr. Ramesh C Gupta es M,D F.A.C.P y F.A.C.G
El es Certificado por la Junta de Medicina Interna y Gastroenterología. El ha estado practicando Gastroenterología y Medicina Interna por más de 30 años, su experiencia medica van más allá de los aspectos diagnósticos para tomar decisiones acerca de la endoscopia y colonoscopias terapéuticos.
Dr. Gupta actualmente es miembro de las siguientes sociedades:
Colegio Americano de Médicos
Colegio Americano de Gastroenterología
Asociación Americana de Gastroenterológica
Asociación Americana de Endoscopia Gastrointestinal
AAPI ( Asociación Americana de Médicos del Origen India)
La Satisfacción de nuestros pacientes siempre has sido la meta de nuestra oficina. El Dr. Gupta tiene experiencia extensa interactuando con los pacientes de todas partes del mundo. El doctor tiene la experiencia para entender las diferentes caracteres de las personas y conoces como afecta los síntomas a los pacientes de diferentes grupos étnicos. Por ende, el conoce como manejar el tratamiento a nuestros pacientes de acuerdo a sus culturas y estilo de vida.
Aparte de el ingles el doctor habla hindi y un poco de español. Un intérprete siempre estará disponible en nuestra oficina.
Nuestro Equipo
Contamos con un equipo de trabajo bilingüe que pacientemente escuchara su necesidad para facilitar su cuidado médico por el Dr. Gupta. Cuando usted llama a nuestra oficina, el teléfono será contestado por una persona y no una voz computarizada.
Afiliaciones
Hospitales: El Dr. Gupta a sido parte del hospital St. Joseph's Reginal Medical Center por más de 30 años. Tambien es afiliado al Valley Hospital en Ridgewood, NJ
Centros de Sirugias:
Surgicare of Oradell

St Joseph's Hospital in Paterson, NJ
Procedimientos realizados por el Dr. Gupta en nuestra oficina
1. Ligadura de Hemorroides (el doctor es experto en esto con buenos resultados)
2. Diferentes exámenes de la intolerancia para chequear si es intolerante a la lactosa, comidas que son lenta en digerir o intolerante a las frutas.
3. Examen para la bacteria H-Pylori
Procedimientos realizados por el Dr. Gupta afuera de nuestra oficina
Endoscopia del tracto gastrointestinal superior: incluyendo biopsia, controlar algún sangrado, dilatación de las estructuras, Ligadura de varices esofágico, colocación de stents.
Colonoscopia: Incluyendo biopsia o polipectomia, controlar algún sangrado, dilatación de las estructuras y colocación de stents.
Seguros que aceptamos
Nosotros participamos y aceptamos casi todos los seguros médicos incluyendo Medicare, Medicaid y todos los HMO's tal como Horizon NJ, Aetna Better Health Y Wellcare. Tambien aceptamos la mayoría de los seguros comerciales tal como Horizon BCBS, Aetna, Cigna, United Healthcare, Oxford Y los seguros Locales.